Our Youth Leadership Trips are Back! 
Juniors, apply for the Washington Youth Tour.
Sophomores, apply for the Cooperative Youth Summit.
It's almost time to apply for this year's Youth Tour and Youth Summit! Applications will be accepted January thru February.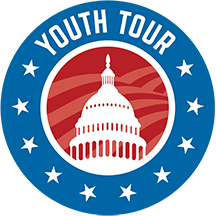 The Washington Youth Tour is an all-expenses paid trip to Washington, D.C. for high school juniors this June.
Over 1,500 students from all across America take part in the Youth Tour experience each year in June, and so can you! Travel to Washington, D.C., where you will meet your United States Representative and Senators. This unique trip will give you the opportunity to watch history come alive as you explore the museums, memorials and monuments with students from your state.
You will meet student leaders from nearly every state and hear dynamic leaders on Youth Day. Bottom line, you will make friendships that will last a lifetime and be part of a group that has over 50,000 alumni in every walk of life including U.S. Senators and CEOs. For additional information, click the "Request Info" below or you can visit the official Youth Tour website.
The Cooperative Youth Summit is an all-expenses paid trip to Columbia, S.C. for high school sophomores this July.
Along with the Electric Cooperatives of South Carolina, Berkeley Electric created the Cooperative Youth Summit in 2017.This trip is a four-day, three-night event in our capital city.
Students will have the opportunity to tour the Statehouse, enhance their leadership skills, engage in team-building exercises, learn about electric cooperatives and how state government works, and meet other cooperative students from across the state. Plus, you will get to visit local attractions. For additional information, click the "Request Info" below.